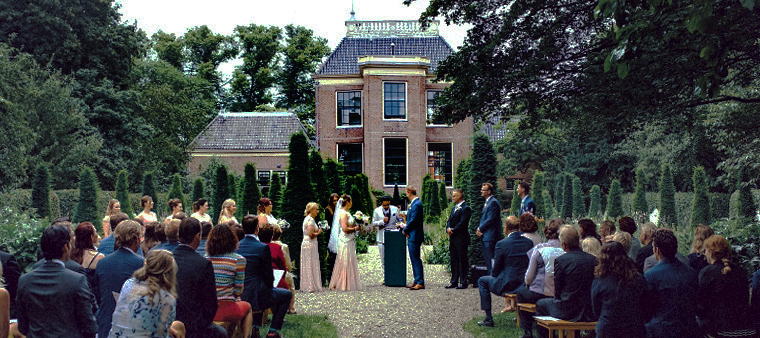 Marriage is a great Celebration of Love, a onetime happening, together with all the people you love and who are so important to you.
Humor and interaction should absolutely be a part of this. While performing The Ceremony I am using all my experience and intuition.
The bride and groom should feel very comfortable, so they really can enjoy the moment. This is the base of my passion. This my goal !
Nothing is usual during a ceremony, the only thing I must do is check the names of The couple and witnesses, the vows and the signing. Every form and content you may have in mind is possible.
Before I became a wedding registrar, I attented many weddings and I often had the feeling that it could be different and more intense and less formal. To be a wedding registrar is more than performing a Ceremony… It's a big Celebration of Love.
We will talk and brainstorm about all the possibilities so we can create a Ceremony that fits you perfectly.
'Love connects us All'
Sincerely,
Stanley Doorn
Renewal Vows
Congratulations on renewing your wedding vows.
It's always wonderful to celebrate your love again !
We can create a wonderful ceremony, let's meet so we can make this a personal and wonderful experience!
'Love connects us All'
Regulating the appointment
I am a wedding-registrar in the city of Amsterdam, you can always submit the request to be married by Stanley Doorn, most of the time the request will be accepted.
Do you marry in another Cityother than Amsterdam? You can submit the request in that City to appoint me one day.I will ensure that the necessary documents for the appointment will be sent to the right contact person.

Also outside of the Netherlands I could accomplish marriages. It often happens that the in-official ceremony is being done abroad. In which case I could participate as the 'wedding registrar' as well.

Rates
Every marriage needs it's specific preparations.
After our first meeting I will make up a proposition.

International
I speak fluent English and German and some not – too – bad – at all French.

Contact
Telephone: +31 (0)6 50 662 690
Email: stanleydoorn@yahoo.com
If you mail me please let me know the date, time, city and location.
Experiences and Feedback

• Dear Mr. Doorn,
On behalf of Aneta and myself, I just wanted to say a very big thank you for the wonderful ceremony on Tuesday, on the 'Ondine'. You really helped make our day very special. Aneta and I (and all of our guests!) were very pleased that you conducted our wedding. You delivered our story perfectly, and made it a very entertaining, yet personal experience.

• Dear Mr. Doorn,
On behalf of Aneta and myself, I just wanted to say a very big thank you for the wonderful ceremony on Tuesday, on the 'Ondine'. You really helped make our day very special. Aneta and I (and all of our guests!) were very pleased that you conducted our wedding. You delivered our story perfectly, and made it a very entertaining, yet personal experience.

Dank u wel!
Best Regards,
Aneta and Craig

• Hi Stanley,
Karen and I want to thank you again for your incredible efforts during our wedding. You have made something beautiful of the ceremony, we have enjoyed it incredible. We have had many comments about you, there are apparently not many "officials" who do a wedding as you do! Stylish, but with enough personal space for the other speakers. Thanks again, you have made something very special of it.

Karen and Gabriel

• Dear Stanley,
Thank you for the 23rd, it was a beautiful ceremony at The Grand. Herman and I were honored that you have been our wedding registrar.

Many thanks!
Herman and Maaike

• Dear Stanley,
You are our hero forever, You did a Super Job. Both in the afternoon and in the evening you have played an unforgettable role. We are now intensely reminiscing.

Love,
Stefan and Quirine

• Dear Sir or Madam,
Last Friday we got married in your district. The wedding ceremony took place in the Krasnapolsky Hotel. Outside the great weather, we were also greatly affected by the wedding registrar. We get the last few days many compliments about the ceremony and in particular how the wedding registrar did the ceremony: Entertaining, witty, informal but with a serious undertone, with humor, and very personal. Many of our guests extremely appreciated this. We ourselves found it quite amazing. The official, Stanley Doorn's important contribution was wonderful and was a great start for the rest of our day. We are looking back with great pleasure. He deserves in our opinion a great compliment!

Sincerely,
Saskia & Michael

• Dear Stanley,We'd have to thank for the fact that you have help to ensure that our wedding has become a memorable day. The day is just as satisfactory if we had imagined and we experiennced that you did the wedding with great verve and humor! we have had only positive responses.

Ina and Vincent